The Natural Diamond Council (NDC) has launched its latest global campaign, "To Treasure Now and Forever," which emphasizes the beauty, uniqueness, and adaptability of natural diamonds.
The 2023/2024 campaign features actress Lily James, who has taken on the role of global ambassador for the NDC. The campaign, shot in New York City by renowned photographer Cass Bird, showcases James in four distinct looks, each complemented by a range of natural diamonds.
These looks aim to highlight the diamond's versatility, demonstrating its fit with casual streetwear, sophisticated evening attire, power tailoring, and glamorous outfits for standout occasions.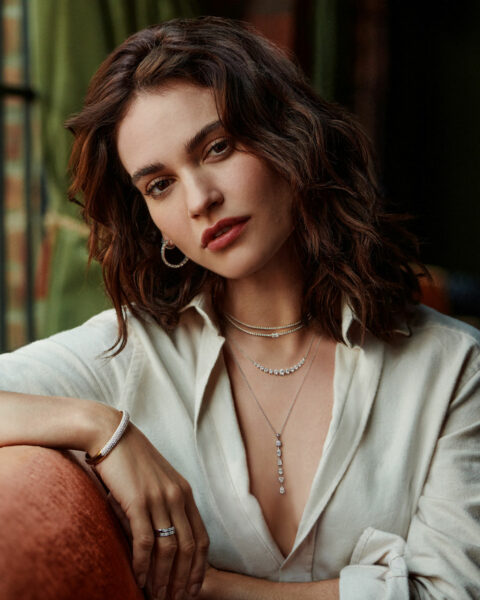 A Word from the NDC
David Kellie, CEO of the Natural Diamond Council, expressed his enthusiasm for the campaign and James's involvement, stating, "The talent, integrity, and authenticity Lily brings to the table are the perfect attributes to represent natural diamonds." Kellie also mentioned the significance of James's visit to Botswana the previous year, emphasizing the campaign's potential to bolster the NDC's retail partnerships.
Lily James on Natural Diamonds
Lily James shared her insights on the diamond industry, particularly after her visit to Botswana. She observed the positive influence of the diamond mining industry on local communities and ecosystems. James, who has been the NDC Global Ambassador since September 2022, remarked, "After visiting Botswana… it made me want to be even more intentional with the diamond jewelry I wear." She emphasized the personal significance of diamonds, associating them with cherished memories and the individuals who gifted them. James also expressed her excitement about launching the NDC campaign in London and the subsequent shoot in New York City.
Campaign Reach and Partners
The NDC's campaign will gain traction through its global retail partners. Notable partners include Razny, Hamilton Jewelers, and London Jewelers in the US; Malabar in the UAE; and Chow Tai Fook Jewelry Group in China. For a detailed view of the diamond jewelry showcased in the campaign, enthusiasts can visit NaturalDiamonds.com.
Implications for the US Jewelry Industry
The NDC's new campaign underscores the enduring appeal and versatility of natural diamonds. For US jewellers, this campaign serves as a reminder of the timeless value and adaptability of diamonds. The involvement of a prominent figure like Lily James can potentially attract a younger demographic, emphasizing the relevance of diamonds in contemporary fashion and culture. Furthermore, the campaign's focus on the ethical and community benefits of the diamond industry can resonate with consumers increasingly concerned about sustainability and ethical sourcing.
About the Natural Diamond Council
The Natural Diamond Council (NDC) is committed to upholding the integrity of the modern diamond jewelry industry. It aims to educate, inspire, and safeguard consumers. The NDC's platform, Only Natural Diamonds, is a trusted source on various diamond-related topics, from celebrities and pop culture to diamond buying guides. The NDC's global operations support approximately 10 million industry workers and their families.