Diamond prices experienced a notable decline in September, with the market facing challenges from increased competition from synthetic diamonds and a slowdown in retail sales.
Despite a decrease in production, there was a mismatch as polished inventories remained high, not aligning with sales expectations
RapNet Diamond Index (RAPI™) Insights
The RAPI™ for 1-carat diamonds saw a significant drop of 5.2%, marking it as the most challenging month since the Covid-19 downturn peak in March 2020.
Other categories also faced declines:
0.30-carat RAPI: Decreased by 3.5%
0.50-carat goods: Slid by 7.1%
3-carat diamonds: Declined by 2.5%
The RAPI, which focuses on D to H colors and IF to VS2 clarities, indicated a 6.8% decrease for 1-carat, D-L, SI1-SI2 items in September.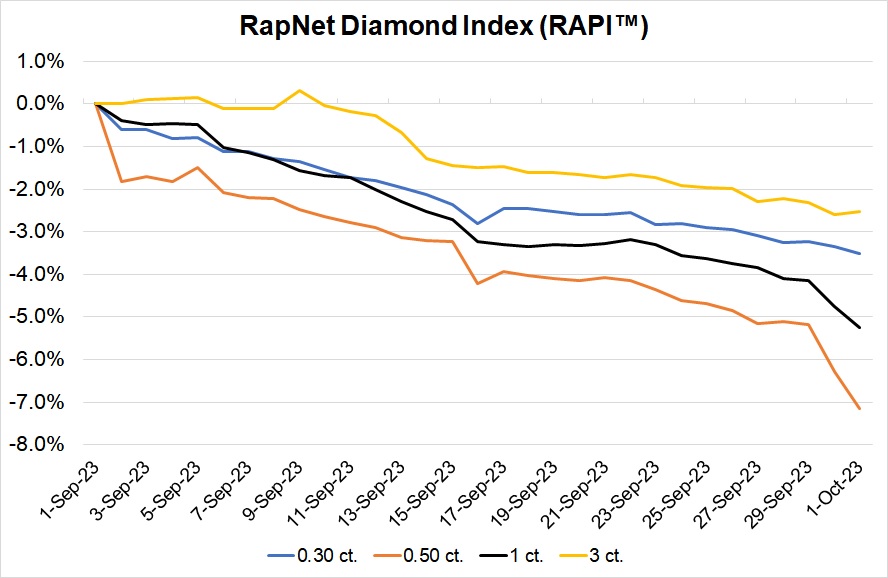 Fancy Shapes vs. Rounds
Interestingly, fancy-shaped diamonds depreciated at a slower rate than their round counterparts. Marquises stood out with the best price performance, while cushions faced the steepest decline.
Market Dynamics
US sales remained stagnant as the holiday season approached. Economic challenges in China led to a decrease in diamond purchases. The Jewellery & Gem World Hong Kong show didn't see much activity from mainland buyers. Additionally, the Jewish festivals had an impact on trading activities in major centers. The diamond industry showed support to Israel during its conflict with Hamas in early October.
Rough Diamond Market
The rough diamond market faced uncertainties. Indian trade bodies proposed a suspension in rough-diamond imports from mid-October to mid-December, aiming to decrease inventories and stabilize prices. This decision's impact will likely be evident in the coming months.
De Beers' Strategy
De Beers reported sales of only $200 million in September. The company announced its plan to offer "full flexibility" for the last two sights of 2023 and has put a hold on its online rough auctions for the year.
Russian Diamonds in Focus
Potential restrictions on diamonds from Russia led manufacturers to release polished diamonds sourced from the country. Collaboratively, De Beers' Tracr platform and Sarine Technologies are developing a system to allow G7 countries to view a diamond's complete provenance at customs, simplifying the rejection process for Russian goods.
Implications for US Jewelers
The current state of the diamond market presents both challenges and opportunities for jewelers.
The decline in diamond prices, while indicative of market challenges, can offer buying opportunities for jewelers, particularly for shapes like cushions that remain popular with consumers but which fell more significantly than others.
However, the rise of synthetic diamonds continues to present challenges, with jewelers seemingly struggling to educate consumers about the value and authenticity of natural diamonds.
The potential restrictions on Russian diamonds also emphasize the importance of transparent sourcing and the need for jewelers to ensure their supply chains are ethical and traceable.